Timber Laminate Flooring, Sydney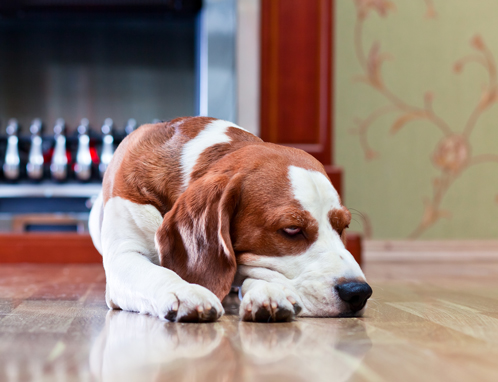 Laminate flooring is a very versatile and hardwearing flooring material and on a price point comparison, laminated flooring costs less to buy and less to install than solid timber flooring.

In areas such as Sydney, laminated flooring is not only cool underfoot but is easy to clean and maintain, is hard wearing and resistant to staining and scratching. These are huge benefits to our busy lifestyles.

Laminated flooring however, is not indestructible. It cannot tolerate standing water - so as soon as a spill occurs it needs to be removed, because if left unattended the affected planks will swell and warp.

Dropping heavy objects on laminate floors can also cause damage to the planks. And since laminate flooring cannot be sanded and refinished for an 'as new' appearance, the damaged planks need to be replaced by a professional.
Timber floor staining, Sydney
Staining your timber floors can give them a new lease on life, highlighting their natural grains and beauty. Since the stain penetrates right into the wood, it is also a great way to protect your timber floors for years to come.

If you are looking for a lighter look to your timber flooring then consider liming. This gives a paler, whiter look to your timber without masking the natural grains.

There are a variety of timber floor stains available to suit your design, but whether you decide on timber floor staining or liming, the finished result depends on the skilled application of the product. Avoiding a blotchy finish requires a steady hand and an appreciation of how quickly each type of stain penetrates the different timbers. The result is a flawless and beautiful finish to your timber floors.
High Prestige Floor Sanding operates all over the North Shore, North Sydney, Lower North Shore and Northern Beaches of Sydney.
We provide a range of services, from timber floor repairs, floor laminating and laying of new floors to staining, sanding, restoring and polishing.
We have a reputation for our high precision work, attention to detail and our friendly customer service, and we take great pride in our work.
The team at High Prestige Floor Sanding are your one stop shop for all your domestic and commercial laminate and timber floor restorations, new installations and repairs in Sydney (Parquetry flooring is a speciality).
High Prestige Floor Sanding services all the Liverpool areas of Sydney and surrounding suburbs.
We provide a range of timber Floor Sanding, floor polishing, installation and restoration services to both commercial and domestic customers. Our services are affordable and our results outstanding.
As a professional timber flooring company, we are experts in timber floor sanding and floor polishing and take great pride in the quality of our work. If you are looking for professional floor repairs, installations or restorations, whether timber or laminate, we provide both commercial floor sanding services, as well as domestic flooring services.

And did you know that you can stain laminate flooring as well? Ask us for a quote and change the entire feel of your home.
For more information, contact High Prestige Floor Sanding for on 0409 391 054 or Call Oscar Valdes directly on 0409 391 054, email us on info@highprestigefloorsanding.com.au or complete our online enquiry form for timber floor sanding, polishing services in Sydney.