Old and New Timber Floor Care, Sydney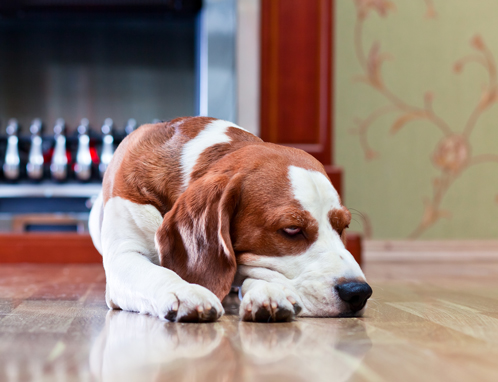 One of the reasons people install timber floors is because the care of both old and new timber floors is fairy minimal. Some timber floor care does depend on the type of finish to your wooden floor, but much of the day to day maintenance is generic.

So here are 8 tips for timber care:
Clean up all liquid spills quickly and ensure that no water or other liquids are left standing on your timber floor.
Be careful of shoes, particularly high heels and boots with metal studs which can leave indentations on a timber floor.
In areas where you are likely to spill liquids, such as kitchens and bathrooms, keep paper towels handy or lay a stylish rug in the area.
A point that many people forget in timber floor care is to keep their pet's claws trimmed - as claws are a common cause of deep scratches in your timber floors.
Check that the legs of your furniture are not sharp enough to indent or scratch the timber. Place coasters with a soft felt or rubber protective layer underneath the legs of all furniture.
Have a door mat outside all entryways and inside the doors as well. This helps to reduce the risk that any dirt or gravel picked up on the bottom of shoes is brought into the house, where it can cause scratches on timber flooring.
If your timber flooring has a polyurethane finish, mop the timber with a slightly damp cloth or mop. You need to have sufficient water on the mop to clean the floor but not to leave any standing water.
If your flooring has a penetrating sealant or wax finish, do not use water or mop the timbers. You need to either buff these timbers or use a solvent based cleaner.
High Prestige Floor Sanding operates all over the North Shore, North Sydney, Lower North Shore and Northern Beaches of Sydney.
We provide a range of services, from timber floor repairs, floor laminating and laying of new floors to staining, sanding, restoring and polishing.
We have a reputation for our high precision work, attention to detail and our friendly customer service, and we take great pride in our work.
The team at High Prestige Floor Sanding are your one stop shop for all your domestic and commercial laminate and timber floor restorations, new installations and repairs in Sydney..
High Prestige Floor Sanding services all the Liverpool areas of Sydney and surrounding suburbs.
We provide a range of timber Floor Sanding, floor polishing, installation and restoration services to both commercial and domestic customers. Our services are affordable and our results outstanding.
As a professional, we are experts in timber floor sanding and floor polishing and take great pride in the quality of our work. If you are looking for professional floor repairs, installations or restorations, whether timber or laminate, we provide both commercial floor sanding services, as well as domestic flooring services.

For more information Contact High Prestige Floor Sanding on 0409 391 054, or call Oscar Valdes directly on 0409 391 054, email us on info@highprestigefloorsanding.com.au or complete our online enquiry form for timber floor sanding, polishing services in Sydney.